Glass Lighting Gallery & Home Finishings
Establishment and home goods store at 28 Commerce Park Drive, Barrie, ON L4N 8W8, Canada. Here you will find detailed information about Glass Lighting Gallery & Home Finishings: address, phone, fax, opening hours, customer reviews, photos, directions and more.
Opening hours
| | |
| --- | --- |
| Sunday | 11:00am — 04:00pm |
| Monday | 10:00am — 07:00pm |
| Tuesday | 10:00am — 07:00pm |
| Wednesday | 10:00am — 07:00pm |
| Thursday | 10:00am — 07:00pm |
| Friday | 10:00am — 07:00pm |
| Saturday | 09:00am — 05:00pm |
Rating
5 /5
Based on 5 reviews
Photos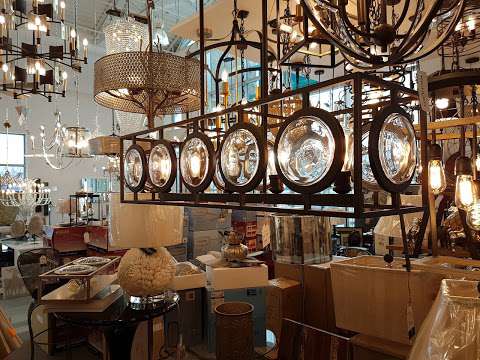 Reviews of Glass Lighting Gallery & Home Finishings
Cheryl Cancelli Added 2018-10-29

★ ★ ★ ★ ★

The staff really helps you to find the perfect lighting choices. We worked with Janet who knew every light and was very thorough and patient helping us with lighting for an entire house. If the light was not on display she could easily find it in a catalogue and was able to discover our style and help. There is a huge selection in the store. Highly recommend this store

Jaimee-Lynne Timleck Added 2018-09-27

★ ★ ★ ★ ★

I Love this store. Great Selection & Excellent Customer Service!

Melissa Bernier Added 2018-09-04

★ ★ ★ ★ ★

They are so helpful and overall incredible here. We have many beautiful lights in our home that were exactly what we were looking for. Some of the orders had to he made by hand and shipped from a distance. Other options are available in the beautiful showroom for pick up that day! The selection is endless, you will find the perfect lighting fixture. There is another Glass Lighting Gallery in Orillia that is a smaller location, but is in an old bank and is worth a visit just for that. Beautiful spot. Amazing and helpful employees too!

Lee Ann Spratt Added 2018-09-03

★ ★ ★ ★ ★

I love this place! So much selection, great staff to help... I could spend a lot of money here

Shawna Meshwork Added 2018-08-11

★ ★ ★ ★ ★

This store has welcoming staff and they are also very knowledgeable. They take their time and work with customers. I would recommend Glass lighting!