Tim Hortons
Establishment, food and cafe at 3 Sarjeant Drive, Barrie, ON L4N 4V9, Canada. Here you will find detailed information about Tim Hortons: address, phone, fax, opening hours, customer reviews, photos, directions and more.
Opening hours
| | |
| --- | --- |
| Sunday | 07:00am — 11:00pm |
| Monday | 07:00am — 11:00pm |
| Tuesday | 07:00am — 11:00pm |
| Wednesday | 07:00am — 11:00pm |
| Thursday | 07:00am — 11:00pm |
| Friday | 07:00am — 11:00pm |
| Saturday | 07:00am — 11:00pm |
Rating
1.8 /5
Based on 5 reviews
Photos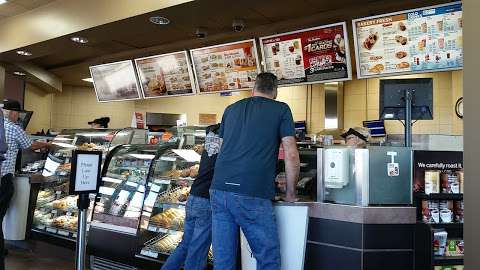 Reviews of Tim Hortons
Dom Added 2018-10-06

★ ★ ★ ★ ★

Young ladies did an excellent job with service, despite getting yelled and harassed by the store owner in front of customers... very unprofessional. Tim Hortons is also like a slave labor camp and doesn't give its young workers 15 minute breaks like every other business in existence. McDonald coffee is much better and cheaper!

John Westbrooke Added 2018-09-17

★ ☆ ☆ ☆ ☆

Yesterday afternoon I had the displeasure of witnessing the most disgusting display of of emotional abuse at this location coming from one employee at the establishment toward another. As a costumer I was horrified! So appalled at the situation, that I voiced my concern to the employee serving my colleague and I.
The next day we came back and after a little digging found out that the inappropriate behavior demonstrated the day before came from...THE AREA MANAGER MANEL??? What an unprofessional, disrespectful excuse for a human being! If I were the Owner I would Fire her without hesitation unless a workplace harassment suit is what he/she is looking to get. The employees there work under a lot of stress and scrutiny and under the circumstances do an incredible job, last thing they need is a demeaning cockroach of an area manager to come in and humiliate and tare down their morale. SHAME ON YOU! We have heard that the owner of the establishment owns at least 7 more locations in Barrie and we will be sure to avoid all 8 and spreading the word while we are at it.

Donna Flowers Added 2018-08-30

★ ☆ ☆ ☆ ☆

The tables were dirty and the messed up are order and were very rude when I ask for a white bun and they gave me whole wheat which I can't eat

Andrew McNeill Added 2018-08-27

★ ☆ ☆ ☆ ☆

Worst tims location in barrie for a quick stop before work! Passenger lane is a joke, staff have no manners even using foil language over the speaker!

Number 1 Homie Added 2018-08-14

★ ☆ ☆ ☆ ☆

the guy i work with ordered a grill cheese. as he began to feed, he discovered the so called grill cheese was actually only 2 slices of bread. the cheeze was as absent as the father of a low income family.